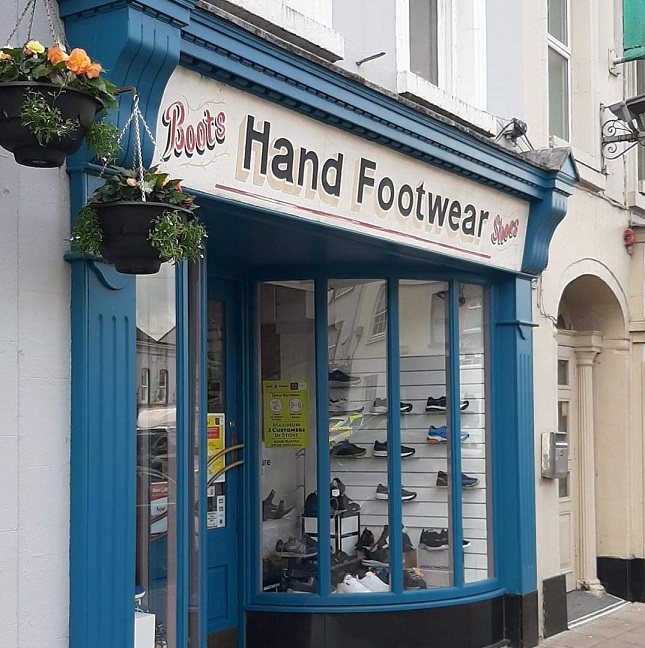 Trading online as www.shoeheaven.ie , Hand Footwear has been in use as a shoe shop for over one
hundred years. John Hand opened a shoe shop in Carrickmacross in 1908 and despite being

burned out in 1922 during the war of independence he continued to trade until 1954.

Patrick Hand (who although they were of the same name was no blood relation of John) bought

the shop and business from John Hand in 1954. Patrick Hand and his family have continued to

trade successfully from the premises since that time and have continued to improve and extend

the offering of quality shoes to the people of Carrickmacross and surrounding area.

The premises have been extended and upgraded on a number of occasions, an extension was

built to the rear of the premises in 1971 and an adjoining building was purchased in 1984 to

extend the shop laterally. Patrick's son Jim joined the business in 1983 and continues to run

the business today.
In 2005 Hand Footwear opened a second outlet at 3 Market Street Monaghan in order to develop
and expand the business. The new store quickly established a loyal customer base and
continues to offer the same quality, choice and customer service to the people of Monaghan.
Although the shoe trade has changed dramatically over the years where once most of the shoes
sold in the shop were made in Ireland and the UK they now come from all over the world.
The Hand family however has remained a constant presence in this business and will endeavour
to provide the same excellent customer service, and quality product for the next hundred years.
Our website Shoe Heaven launched in April 2012 (based out of our Carrickmacross store)
and has gone from strength to strength with customers from all over Ireland and Europe!